Superseded
Superseded by DSCA Policy Memo 06-09.
DEFENSE SECURITY COOPERATION AGENCY
201 12th STREET SOUTH, STE 203
ARLINGTON, VA 22202-5408

2/5/2004
MEMORANDUM FOR :
SEE DISTRIBUTION
SUBJECT :
Clarification of Baggage Allowances for International Military Students (IMSs) (DSCA Policy Memo 04-06)
The Security Assistance Management Manual (SAMM) (Table C10.T9.) provides specifics regarding authorized baggage allowances for IMSs. The number of bags authorized depends on the duration and type of training. The weight allowance for each bag is 70 pounds.
For travel within the continental United States (CONUS) most U.S. airlines now limit weight per bag to 50 pounds (vice the previously accepted 70 pounds) (see attached). For international flights the 70-pound weight allowance per bag is still in effect - but students must comply with maximum dimension requirements and personally pay for excess weight over 70 pounds.
IMSs traveling on an international ticket from their country of origin directly to their training facility should not be required to fund excess baggage unless they have been authorized extra bags or exceed the 70-pound limit per bag. The rules for international tickets, including the 70pound baggage allowance, apply from the point of origin to the point of destination. For example, if a student flies from Bangkok to Los Angeles, and then transfers planes to go on to San Antonio as the final destination, the 70-pound weight allowance is applicable from Bangkok to San Antonio. No excess weight fees will be charged at Los Angeles if a student's bag is within the airlines limits for international travel.
IMSs attending training at different facilities in the United States and taking CONUS air transportation between the training facilities, will be authorized excess baggage weight expenses up to the 70-pound weight limit per authorized bag. Payment for these charges can be done through Miscellaneous Charge Orders (MCOs) or through student reimbursement.
Airlines ceased accepting government excess baggage vouchers on 1 October 2003, but now accept MCOs to pay for extra bags and excess weight (over 50 pounds) on CONUS flights. An MCO is a coupon used at various travel industry companies as a general-purpose voucher for their services. If a specific service charge (such as excess baggage) is indicated on the MCO, use is limited to that service. MCOs have no expiration date, are non-transferable, and valid identification is required for use. The travel office arranging the ticket for the IMS can issue an MCO for the excess baggage costs, ifthey are authorized (sample MCO attached).
In lieu of using an MCO, the student may pay for the excess baggage and seek reimbursement as follows:
The IMS can go to the airport in advance, pay for the excess baggage, and take the receipt to the International Military Student Officer (IMSO) in time for the charges to be included with the student's final pay voucher; or,

The IMS can pay for the excess baggage at the airport, retain the receipt, and collect reimbursement upon arrival in their country of origin.
In addition to baggage weight restrictions, some airlines impose an excess baggage embargo that restricts excess baggage to select international destinations. These embargos are generally limited to destinations in Central and South America and the Caribbean during the summer. SAOs and IMSOs working with students in the Southern Command area of responsibility should advise IMSs of these embargos.
Due to the stated changes in airline baggage rules, it is recommend that IMSOs brief IMSs about excess baggage rules and embargos, include airline information in their IMSO Web administrative information, and work with their airline ticket offices to use the MCO method to pay for authorized excess baggage.
The DSCA point of contact for this issue is Ms. Dawn Burke at ph. (703) 601-3864 or e-mail dawn.burke@dsca.mil.
Richard J. Millies
Deputy Director
ATTACHMENT :
(1) CONUS Airline Baggage Allowance Fees
(2) Sample Miscellaneous Charge Order
DISTRIBUTION :
DEPUTY UNDER SECRETARY OF THE ARMY
(DEFENSE EXPORTS AND COOPERATION)
(DASA(DE&C)/SAAL-ZN)
DEPARTMENT OF THE ARMY

DEPUTY ASSISTANT SECRETARY OF THE NAVY
(INTERNATIONAL PROGRAMS)
DEPARTMENT OF THE NAVY

DEPUTY UNDER SECRETARY OF THE AIR FORCE
(INTERNATIONAL AFFAIRS)
DEPARTMENT OF THE AIR FORCE

COMMANDER, EUROPEAN COMMAND

COMMANDER, PACIFIC COMMAND

COMMANDER, CENTRAL COMMAND

COMMANDER, SOUTHERN COMMAND

COMMANDER, NORTHERN COMMAND
CC :
SATFA
AFSAT
NETSAFA
MARINE CORPS
USCG-CI
DISAM
SOILIC
Attachment 1: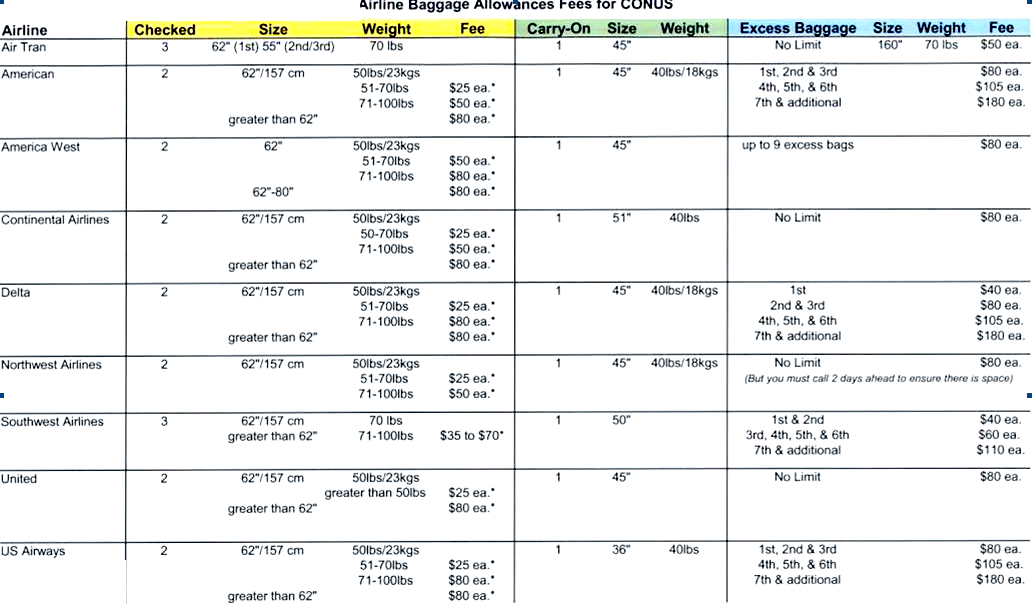 Attachment 2: